Les traemos nuevas geniales fotos y entrevista exclusiva de

Alexander Ludwig

de la nueva edición de Just Jared Spotlight Series. Él habla sobre su trabajo en dramas de deportes inspiradores, sus momentos favoritos en el set de su serie "Vikings" en Irlanda y sus programas y artistas favoritos de estos días.
Alexander Ludwig: Me encanta que simplemente no sea del promedio de todas las películas de deportes actuales. Se inicia con ellos perdiendo su gran campeonato, o ellos ganando el gran juego de campeonato, y luego pierden. Es una especie de historia de regreso. Lo que los entrenadores hicieron fue simplemente excepcional.
JJ: ¿Qué se siente jugar fútbol de verdad en lugar de jugar para una película?
AL: Esa es una buena pregunta, porque nunca he jugado al fútbol real. (ríe) Es muy divertido porque he jugado casi todos los deportes, excepto el fútbol porque yo vivía en Vancouver, Canadá, y me vine a Nueva Orleans y no sabía cómo jugar en absoluto. Así que tuve que aprender muy rápidamente.
JJ: ¿Tienes algún recuerdo favorito del set?
AL: Yo diría que el fútbol. El hecho de que tengamos que jugar por ahí con todos los chicos.
JJ: ¿Cuál fue tu escena favorita para rodar?
AL: Definitivamente la escena final. Había tanta energía en el set porque también fue el final del rodaje. Así que habíamos pasado todo este tiempo todos juntos y hecho una gran película.
JJ: ¿Cómo fue trabajar con Matthew Daddario?
AL: Increíble, me encanta el chico. Todo el equipo, todos nos convertimos en mejores amigos. Hemos sido hermanos desde entonces. Estamos siempre acostumbrados a salir y escuchar un montón de música y cosas juntos. Una noche, todos vimos tocar a esta gran banda de rap, y subimos al escenario con todos ellos. Fue genial.
JJ: Sobre Vikings... ¿Cuál es tu actividad favorita mientras filmabas en Irlanda?
AL: Ver música en vivo. Me encanta la música en vivo. Y quiero ir a surfear, pero no he podido hacer eso todavía.
JJ: ¿Tiene un objeto favorito del set de Vikings?
AL: Sí, mi anillo de brazo. Es un anillo que te dan para mostrar tu lealtad por quien sea que estés luchando. Y le he dado uno a mi hermano y uno a mi mejor amigo.
JJ: ¿Cuál ha sido tu momento favorito fuera de la pantalla?
AL: Recientemente, mi amigo y yo, fuimos juntos a Islandia. Él interpreta a Floki en el espectáculo, Gustaf Skarsgard. Estuvimos uno de los mejores lugares de Europa. Fue increíble.
JJ: ¿Qué tipos de proyectos estás buscando para hacer en el futuro?
AL: Sólo grandes historias. Me encanta los grandes guiones e historias inspiradoras. Realmente no importa en qué categoría se encuentre, siempre y cuando se trate de una gran historia.
JJ: ¿Alguna vez ganaste la guerra de sustos entre tú y Nina Dobrev?
AL: En este momento, ella está ganando, pero es sólo porque estoy trabajando en Vikings, y ella llegó a Dublín y me asustó. Así que voy a ir a Atlanta y asustarla, por lo que esto continúa.
JJ: ¿Cómo es que ella te asustó en Dublín?
AL: Ella tenía un amigo, que también trabaja conmigo, así que voló porque se suponía que debía venir a visitarnos, pero ella vino y nos visitó un par de días antes. Entré en el vestíbulo del hotel y ella estaba escondida detrás de una pared, y me asustó. Estaba muy feliz de verla, pero también estaba muy enojado porque ella lo logró.
JJ: ¿Llegaste a viajar este verano para divertirte?
AL: Todo lo que puedo en los fines de semana. Fui a Milán, me fui a París. Pero no, no he sido capaz de hacer un gran viaje todavía. Quiero ir a Japón pronto.
JJ: ¿Quién fue tu primer amor celebridad?
AL: Mi primer amor fue probablemente la celebridad Jessica Alba, cuando yo era un niño pequeño. Y después Tina Fey.
JJ: ¿Era Jessica, la de sus días de Dark Angel, o antes de eso, o después de eso?
AL: ¡Durante Into The Blue!
JJ: ¿Tienes algun show de televisión con el que estés obsesionado este momento?
AL: Sí, House of Cards. Me encanta True detective. Y Suits.
JJ: ¿Cuáles son algunas de tus bandas favoritas que estás escuchando ahora?
AL: Yo soy amante de la música country en este momento. Así que estoy escuchando desde Jason Aldean hasta Brad Paisley, a todos esos muchachos. Y después, uno de mis amigos está en Foster The People así que me gusta, me encanta apoyar a todos y lo que no, porque me gusta su música. ¿Y qué más ... Oh! Me encanta The Congos, son geniales, sí.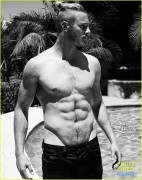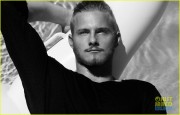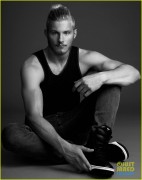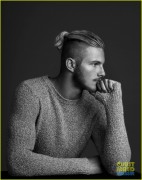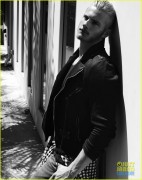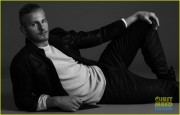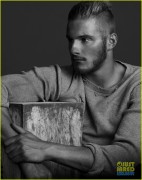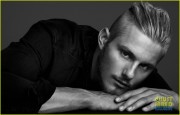 Fuente Just Jared
Traducción Real or not real News