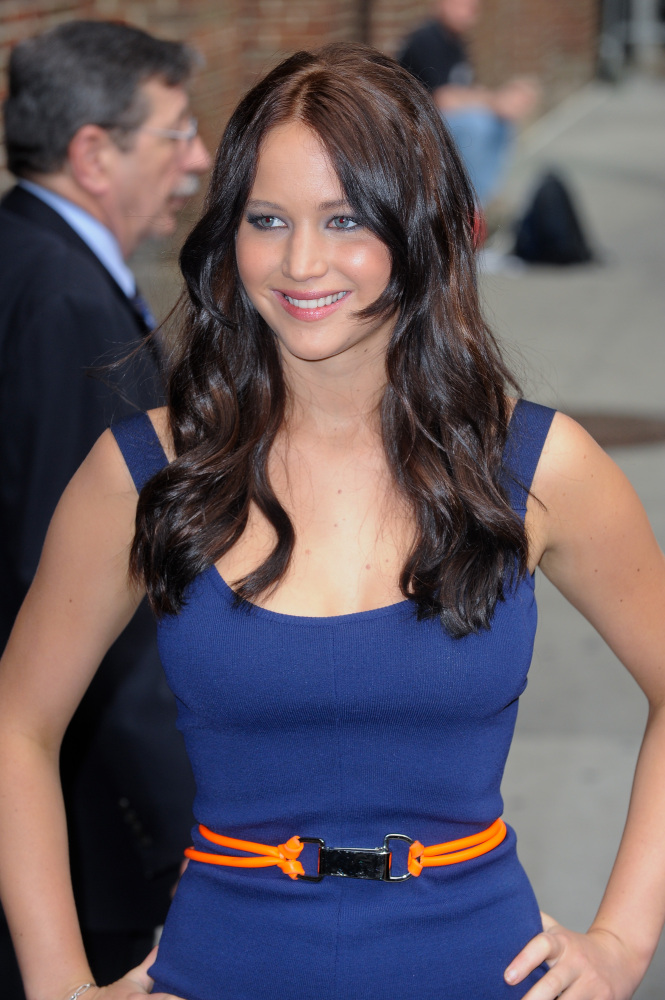 Jennifer Lawrence

es muchas cosas : actriz nominada al oscar, una super estrella de las taquillas, tapa de muchas revistas de Hollywood y la mejor diciendo frases. Ella es la actual reina de las palabras, y es por eso que tiene una base de fans que varía de las adolescentes que la conocieron en Los Juegos del Hambre a personas mayores que la votaron para los oscars.
Y para celebrar todas estas razones, HuffPost Entertainment seleccionó sus 17 frases favoritas. Esperemos que las disfruten !
1.

"¡Estoy malditamente perdida! Estuve dando vueltas con el auto como por 10 minutos. ¿Donde carajos esta ese lugar?" - Rolling Stone
2.
"Tengo tantas ganas de hacer pis" - Rolling Stone
3.
"Soy la persona que hace pis más rápido. Enserio, soy reconocida por eso" Rolling Stone
4.

"Cuando realmente quiero un personaje, no se muy bien que hacer. ¿Cómo hago para que el director se entere que estoy locamente obsesionada con ese personaje y que haría lo que fuera para estar en la película?. Una vez, quería un papel y le escribi una carta a mano al director. Pero luego estaba como ¿Cúantas personas les habrán escrito al director? Seguro es poco original. ¿Que hago ahora? ¿ Duermo afuera de su casa hasta que me de el papel? - Interview
5.
Tengo el alma de una persona adulta. No se como hablan los jóvenes, saco todo de las películas" Intreview
6.
"Corro de manera muy extraña. Esa es la razón por la cual me pongo tan nerviosa, lo que mas me pone nerviosa es comenzar a reirme por lo raro que corro. Y trato de que se vea aeróbico y normal o algo asi, y mis manos se ponen duras como tijeras. Manos de karate. -MovieFone
7.
"Cuando bailo, parezo mi padre en mi graduación. Nunca muevo mis caderas. Desde mi adolescencia siento que no nos entendemos." The new york times.
8.
"Ese vestido lucía tan divino puesto. Y luego estaba sentada en la mesa y lo único que podía ver era como unos chicos sonreían y miraban mis pechos sobre la mesa." - The new york times.
9.
"En realidad el no me mordió, yo corrí a sus dientes" - The new york times.
10.
"Así es como sigo por la vida libre e idiota: No se realmente que es lo que estoy haciendo." The new york times.
11.
"Quiero una piza con mi cara en alla" The new york times.
12.
"Pense que me ibas a pasar una página para mirar orgías, pense que "wow, cualquier chico aquí me podría dar eso". Vulture
13.
"Deje mis ojotas en el auto, justo con mi alma" Vulture
14.
"Soy una basura blanca, así que es podría ser la versión de basura blanca de Kentucky. No se muy bien como lo llaman, ¿Pupera? ¿Top? - The daily beast.
15.
Katniss es Juana de arco pero ella no se ve de esa manera. A ella le nace de adentro. Es tan fuerte como un héroe hombre con vagina. Es algo bueno para las chcias de 13 años. No debería haber dicho vagina.. pero ustedes saben a que me refiero. Si la tienes, cállala." the daily beast.
16.
"Algunas veces vas a apestar, y esta bueno si alguien está ahi y te lo dice" The daily beast
17.
"Si, le grité a Daniel Radcliffe en la cara. Estabamos los dos en Letterman y lo tomé del brazo. Por su puesto, yo tenía tacos, esto me hacía el doble de alta que él y le dije "AMO HARRY POTTER" La gente de su seguridad se comenzó a acercar" The daily beast.






Fuente: Huffingtonpost